We were up at dawn eating cereal and watching cartoons but soon out the door not to be seen or heard from again until the streetlights came on. We took it very seriously to be outside all day playing cops & robbers or steal the flag. We rode our bikes, played in the nearby creeks, drank from the water hose, and ran the neighborhoods.
Most Gen Xers are independent — either we were home alone because both our parents worked, or it was a single-parent household. Either way, we raised ourselves. Television really raised most of us — I mean who didn't love MTV, Three's Company and of course, we were all invested in who shot JR! We learned a lot from our TV shows and the commercials. And that is where our brand loyalty all started before cell phones, computers, and tablets. We appreciated the information we were learning about the products in the advertisements and there was always a catchy jingle to help us remember. When I was young my parents owned a convenience store, I was often allowed to have a soda. Every time I would choose Dr. Pepper. I remember the jingle: 'I'm a pepper, you're a pepper, wouldn't you like to be a pepper too' (if you know it, I bet now you are singing it in your head)! To this day I still choose Dr. Pepper over any other soda.
Big brands including Dr. Pepper spent big bucks on integrated marketing that included catchy jingles, iconic branding, creative ads, and promotions that drove awareness and purchase.
We were also growing up when the modern loyalty programs emerged. Remember American Airlines' frequent flyer program, Hertz's #1 Club, and Discover Card's cashback program? They were a new approach to building and maintaining brand loyalty. The approach worked so well in fact, that today 90% of companies have a loyalty program and there are an average of 29 memberships per household in the U.S.
And while Gen X is a core loyalty program subscriber,  we also want a product that we can relate to and that we value.  We thrive on being informed with honest, genuine information. We also look at the quality of the brand, how accessible it is, and if the product and/or brand is consistent.  We pride ourselves on being loyal to people and the brands we love. If you can connect with a Gen Xer, we are a customer for life. 
Morning Consult reports that 61% of Gen X prefer to buy from companies that reflect their social values. Our generation is also value-conscious. We want a good value for our money. And when we get that value we will talk about it online. A Gen X GWI survey shows that product quality is a real motivator for the online promotion of a brand recently purchased. Customer service is key as well.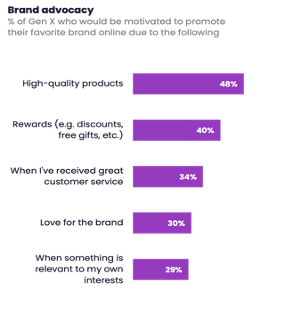 All said, Gen X is a discerning customer who enjoys the convenience of shopping online but buys brands that have earned our loyalty by providing a quality product at a good value and making the online buying process seamless.
As a generation, we are astute buyers, maybe because we had the best of both worlds before and after the big technology boom. We've learned to be resourceful, adaptable and to expect the brands we support to create more than a transactional relationship with us.
Interested in learning more about Gen X and how you can engage them in digital media? Reach out to start a discussion. We're all ears! info@brkthru.com
Get In Touch