Being the data geek and marketing lover that I am, I sit here with a huge smile on my face looking at the cover of L.L. Bean's 2023 Christmas catalog. I just watched GWI/PMG's joint webinar on a study they conducted in September on 2023 holiday season spending, attitudes, and behavior. Kudos to the marketing team at L.L. Bean because they absolutely nailed it for my first key takeaway from the survey data – quality is trending!
Maybe they had spies to get a jump start on the holiday season. Or did they? That's where my second key takeaway arrives. Christmas in July has been around since 1933 when a summer camp in North Carolina decided to bring in fake snow for a two-day celebration. Enter Amazon Prime Days and massive changes to the holiday shopping season.
My third key takeaway is the differences in behavior by generation. For decades one of the most valuable advertising demographics has been adults aged 25-54. Within those ages you'll find Gen Z, Millennials, and Gen X. three different life stages and the data reflected that.
Are these absolutes? Absolutely not, but the survey data offered some great perspectives with takeaways I thought were worth sharing.
Quality Is Trending
Sure, the economic climate can easily be a factor here. The survey's data drove home the point that shoppers can be won over with messaging on durability and superior quality. Shoppers are making more thoughtful and deliberate decisions on where they spend their money. Regardless of generation or income, quality matters. L.L. Bean's message is in lock step with this.
At the bottom of the catalog cover page are two taglines. "Well Made to be Well Loved" is followed by, "Gifts they'll love long after the holidays." Not only does this align with the survey data, but it also reaches multiple generations with the same message.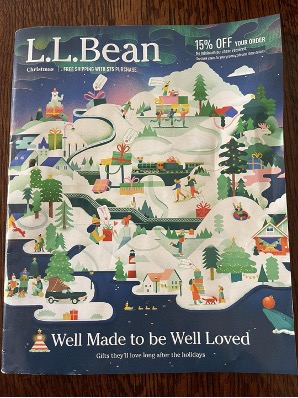 Gen Z, whose decisions are usually motivated by the latest in TikTok fashion and beauty, are not falling for trends this holiday season. This year they're desiring to give things that last, which means fewer (yet better) gifts.
No matter if it is in-store or online, the quality of the customer experience is influenced by an easy return process. Think about product returns at Nordstrom, for example. Nordstrom built a brand on exceptional customer service while also making returns easy. Amazon also makes it easy and is the measuring stick formany online retailers. One brick and mortar and one online "store" both add value and spur purchases because of easy returns.
The Holiday Shopping Season is Longer
The July and October Prime Day bonanzas mean the holiday shopping season starts in July. Other retailers have been forced to react to it. Plan for it. Strategize for it. Retailers now need a seven-month holiday promotional strategy. In fact, 23% percent of Gen Z and 20% of Millennials planned to kick- off their holiday season shopping with Amazon's Early Access Prime Days.
Gen X and Baby Boomers still make up most of the last-minute shoppers and have longer consideration stages this holiday season. Nearly one-quarter of Gen X and Baby Boomers said they already started shopping when the survey was conducted in September. Yet 48% will continue to shop until the end of the holidays. Conversely, Gen Z's plans to be done shopping by Cyber Monday.
GWI and PMG data also shed light on how people choose to shop with some interesting insights. Lower income households lean more towards shopping in person. Perhaps because that excludes shipping costs? Maybe there is a perception that you can get better deals in stores? Higher incomes are heavier online shoppers driven by convenience and the comfort of shopping from home.
Generational Differences and Similarities
There are a few things in common but also clear and significant differences in generations for the 2023 holiday shopping season. Beginning with the commonalities, all shoppers are again making thoughtful spending choices. Discretionary spending on apparel and accessories tend to get cut when budgets shrink. Practicality begins to hold more decision-making weight.
While social media influencers drive purchases, they're less influential for this holiday season's shopping across generations. Brands need to build a strong reputation and awareness ahead of the holiday season to then be top of mind when customers are ready to shop for their friends and family.
Now onto the generational differences, beginning with Gen Z!
Gen Z:
Gen Z is showing unwavering optimism and resilience amidst our current economic climate. Thirty-eight percent of Gen Z say they plan on resuming delayed purchasing this holiday season. While three-quarters of Gen Zers have plans to buy holiday gifts for their immediate family, it's not stopping them from some personal retail therapy. Forty percent plan to also buy a gift to treat themselves while they're shopping for others!
Gen Z is a valuable audience this holiday season, in particular. While their earning power may need to catch up, they generally have more disposable income relative to other generations. When it comes to media consumption during the holidays, Gen Z will be found turning to social media and video games. Ads in these spaces need to be impactful. It's also a great time to consider building awareness with audio storytelling via podcasts or streaming because 37% of Gen Z are consuming digital media this way.
Millennials:
Millennials, like Gen Z, get an early shopping start. But there's an additional motivation for Millennials that doesn't register as much with their younger counterparts – the supply chain. Their fear of stock running out is real, perhaps still being scarred by the supply chain challenges from recent years.
Millennials are the generation most likely to be consuming media content with family. One-fifth of Millennials have a child, and they're also the generation most likely to be shopping for their pets. They are consuming content that appeals to multiple generations filled with advertising that can generate last minute holiday wish list requests. Talk about quick creative storytelling for the parents who are already done shopping! Maybe they're shifting those tasks to the Baby Boomer grandparents, who shop right up until the eleventh hour.
Gen X and Baby Boomers:
Both Gen X and Baby Boomers adhere to a longer shopping cycle and are much more likely to be shopping in stores.
If you are a retail merchandiser you need to know who is going to be walking through your stores and set up your displays accordingly. For some families, looking at window displays is an outing they do together. Plus, it can generate some inspirational sales that wouldn't have happened without the attractive window display!
Advertising is simple if you let it be. Right Place. Right Time. Right Message. L.L. Bean's catalog was right there when I was ready to receive their "Well Made to be Well Loved" message. I opened the catalog to look for gifts my family and friends will love long after the holiday season. Did I buy anything? Not immediately. But through multiple marketing touch points throughout the holiday season, I know where to turn when I start my shopping. And if you need some guidance on where to begin your holiday marketing, reach out. At Brkthru, we always dig deep to uncover what makes customers tick.
Get In Touch