Think about this: 80% of the world's internet users are on social media according to eMarketer.
That's a lot of posts, likes, swipes, filters, emojis, influencers, and online sales!
While the number of social channels has grown and users continue to engage, these platforms are struggling against the strong headwinds of an uncertain economy, data privacy issues, and weak ad revenues. Here's a look at some of the recent happenings in social.
Twitter: The platform has been plagued by change – the latest controversy "the blue check apocalypse" illustrates the chaos behind the scenes. Since Elon Musk bought Twitter in October of last year, there has been constant drama – from steep layoffs that have caused platform outages to reinstating controversial accounts, not to mention issues with API integrations. eMarketer expects Twitter's ad revenues to plummet by 27.9% this year, largely thanks to the lack of trust in Musk's ability to lead the business.
TikTok: Efforts by the U.S. government to ban TikTok due to data privacy concerns continue. A total ban may not happen, but time limits for teens and laws banning the app on government devices have been implemented as the federal, and state,  governments consider how to handle TikTok long-term. Despite this, the app's popularity and ad revenues are growing with an 11% increase in March. Competition from Instagram Reels and YouTube Shorts is growing as well. 
Meta: Everything's a struggle, from managing data privacy to mitigating content that damages mental health and spreads misinformation. From a user growth standpoint, their biggest struggle could be how to attract Gen Z. Younger people are spending their time on Snapchat, YouTube, and TikTok. They are not flocking to Facebook. In fact, this year 1.6 million 18-24 year-olds will stop using Facebook. And for the first time, the app will lose Millennials. eMarketer predicts a 2.1% dip in users this year.
And with weak ad revenues (Q4 YOY decline from $32.6 billion to $31.2 billion), Meta is working on expanding its ad business. For example, Meta is launching a test on running ads in Instagram search results where people actively search for products and services. It will also add Reminder ads on Instagram that offer businesses the opportunity to remind opt-in audiences about upcoming events and launches.
While some may tag the state of social as a #hotmess, social platforms remain an effective way to advertise for two important reasons:
They continue to reach a highly engaged audience: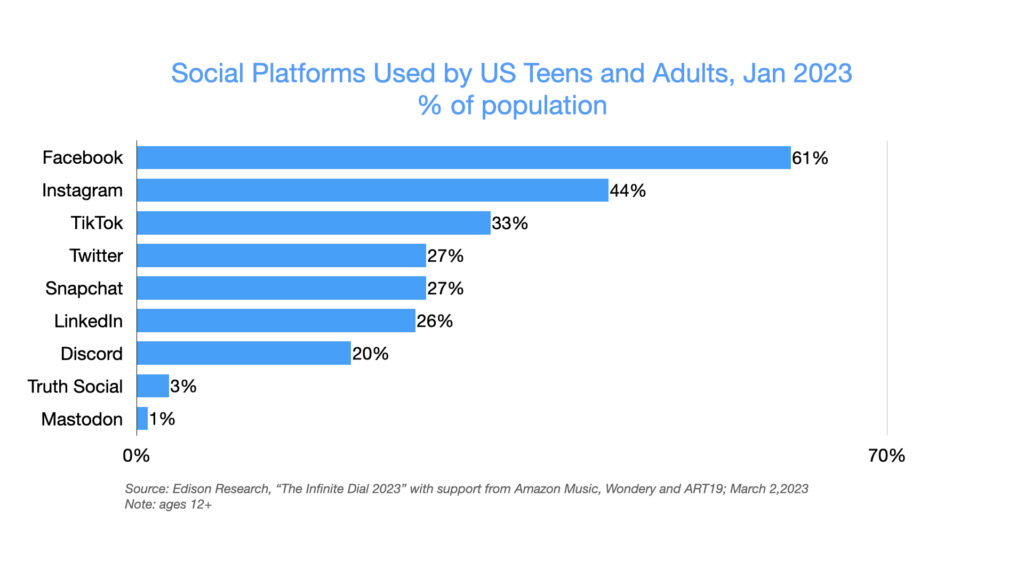 People will spend on social media:
According to GWI, 49% of internet users say they are likely to purchase from brands they see advertised (on social media).
And according to Statista, in the second quarter of 2022, global online shopping from social media platforms reached $86 billion U.S. dollars.
In short, while social media is going through a transitional period (we hope for the better), it will continue to be a valuable channel for reaching and engaging customers.

If you'd like to talk more about your current social strategy and how Brkthru can help you navigate advertising in this evolving channel, we're all ears. Reach out to info@brkthru.com and let's start a conversation.
Get In Touch